Machine Translation
Localization
Artificial Intelligence
Content Generation
Speech synthesis
Multilingual support
Research
Expert talks
Monthly newsletter
Blog / Machine Translation
Bridging the language gap: How enterprises can enable equal employee access to information

Pavel Doronin
May 23, 2022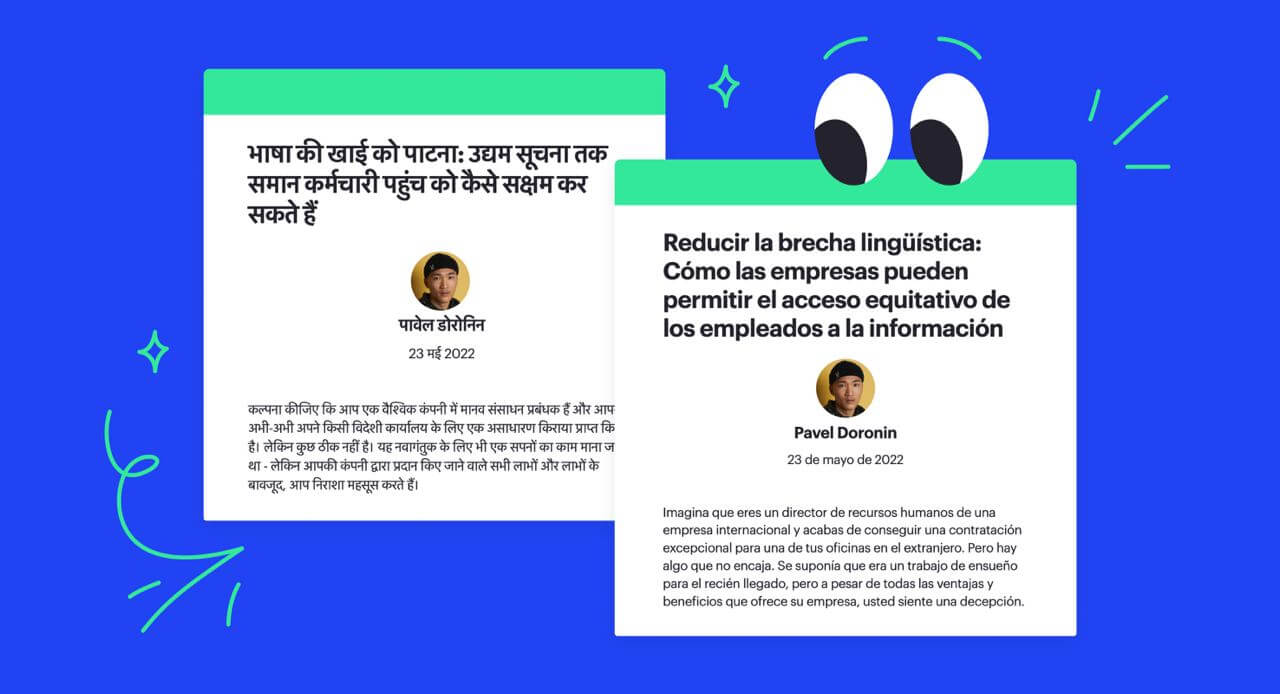 Imagine you're an HR manager at a global company and you've just landed an exceptional hire for one of your overseas offices. But something's not quite right. It was supposed to be a dream job for the newcomer, too — but despite all the perks and benefits your company offers, you sense disappointment.
The thing is, all your corporate knowledge and communication is in English. Fluency wasn't a job requirement, and the new employee can read and speak well enough. Yet, this can be a problem for many reasons.
It's not just the feeling of being excluded, one study states that linguistic ostracism makes workers like their colleagues less, perceive their team as less successful, and may even lead to more aggressive behavior. The language barrier hampers knowledge and communication. On the other hand, if differences are celebrated, people tend to feel more valued, included, and engaged.
Let's look at the issues people face in multilingual workplace settings and how to approach them.
HR doing non-HR work

A less-than-friendly welcome
Gaps in comms

Hard-to-reach knowledge

The enlightened few
The challenge of getting support

Unfulfilled DEI promises
Safety lost in translation
Where to start with internal content localization
How to translate internal content?
Key takeaways
HR is a famously stressful job, and when someone struggles with onboarding or cannot use corporate content due to the language barrier, you end up doing translation work at the expense of your core duties. And for the company, this means hidden costs.
Speaking of cost, not translating your corporate content can mean losing a great hire. And native-level applicants may be harder to find, not to mention that they may expect a higher compensation level.
A less-than-friendly welcome
Onboarding someone in a language they don't speak well is inefficient — and insensitive. And all the assorted guidelines, handbooks, memos? Foreign-language materials may be harder to understand and perceived as less relevant.
The opposite is also true — introduction and training in your mother tongue are just easier and faster to complete, so it's a win-win for everyone.
Researchers found out that a native language is best for retaining knowledge while using a foreign language reduces mental imagery and may even affect moral choices.
What to translate
Welcome kits
Introductory emails
New hire checklists
Guidelines, handbooks, memos
Language anxiety is a real thing. Without confidence, speaking another language with your international colleagues may be a challenge. And online translators? Sadly, they don't always capture context and make sense of uncommon words or corporate jargon. On top of that, free-to-use services may not be compliant with corporate security policies.
Bridging the language divide with the right tools will allow individuals and teams to share, discuss, and sync up more freely and efficiently. And when people of diverse backgrounds and lived experiences come together, fresh perspectives and creative ideas begin to flow fueling individual and collective performance.
Finally, a positive diversity climate can reduce the chance of language-based sub-group formation, which, according to one study, can harm team creativity.
What to translate
Internal message boards

Enterprise social channels

Email threads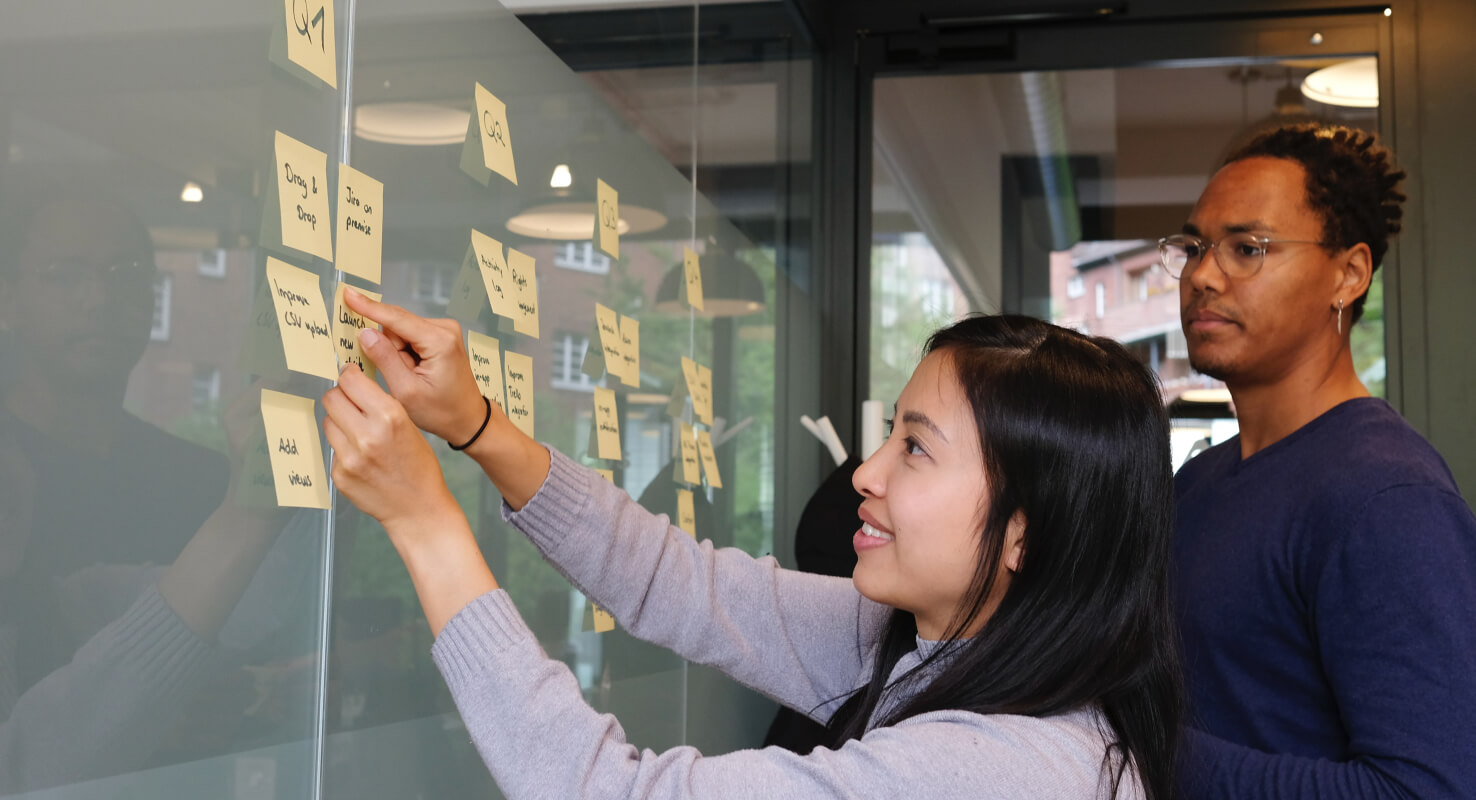 What's made for everyone often ends up consumed by no one. Overseas employees may not even realize that all this primary-language content available to them is also intended for them. In turn, their superiors will struggle to align their teams with the corporate vision and provide meaningful motivation.
On the other hand, workers who can access knowledge tend to be more productive and can proactively solve issues that may otherwise become needlessly escalated up the ladder.
A point of division and a source of tentativeness can facilitate individual employee growth and promote a more vibrant work environment across the entire organization.
What to translate
Knowledge bases

Learning hubs

Intranet portals

Various documentation
The challenge of getting support
If your workers are scattered across different continents and time zones, it's unlikely your helpdesk service offers support in each worker's first language.
When Fatma, an accountant at a global firm, found out her software license has expired, she was hesitant to contact English-speaking support people using a free online translator again — it was a bit of a hassle the last time her PC acted up. Maybe she'll just ask Samir from Marketing to take a look — he knows how to fix programs and download stuff online for free.
In this scenario, a small hiccup can lead to major problems such as lost data and security breaches. Again, popular machine translation providers are unreliable and can pose security risks. Without the right processes and tools, people are left to their own devices and can expose themselves and the company to various threats.
What to translate
Helpdesk communications

IT knowledge

Financial knowledge

Procurement knowledge

Legal knowledge
Nowadays, many companies say their culture is all about "diversity", "equity" and "inclusion" meaning that they strive to provide everyone an equal work experience.
But in multicultural organizations, the aspect of language differences is often overlooked, leaving employees fending for themselves when it comes to getting access to internal content and communicating with colleagues from abroad.
Languages other than "primary" ones are often disregarded, and this is not a good look from any standpoint. If you believe someone would benefit from translations in your company, these people most certainly will — on both individual and collective levels.
Some countries explicitly regulate this matter. Belgium's labor law states that communications with line-level employees must be in their local language. And the UK's law advises employers against limiting the use of other languages at work.
To conclude, making internal content available in various languages can promote equal access to knowledge and ensure an enjoyable work experience for your employees in your organization.
Safety lost in translation
Internal policies and procedures help manage risk, compliance, and obligations. In industries like construction, agriculture, and manufacturing, employee safety must come first. And cyber security is a crucial practice for any company connected to the internet, large or small.
But are all employees able to learn about and understand safety, health hazards and hazard control measures in their workplace equally? A lack of fluency can be a crucial barrier here.
There is no one-fits-all solution here, but safety information must be clear and easy to grasp, period.
What to translate
Corporate policies

Employee handbooks

Health and safety guidelines

IT security recommendations
Where to start with internal content localization?
Find out how your company approaches language diversity by asking such questions as:
Do language policies exist in our company?

What do they mean for current and prospective employees?

Are there strategies to promote language diversity?
Measure your communication channels
Ask your IT or tech department to see how much traffic each content repository — or specific pieces of internal content — attract. Translating everything may not be necessary or urgent, so start by focusing on popular channels, platforms, sections, types, or even individual items.
Talk to your international colleagues
Ask people from different organizational levels about how they access corporate resources and converse with colleagues across borders. If they struggle or feel excluded, how do they cope as individuals and in groups?
Learn about existing translation and localization activities
Are there internal or external language specialists in your company? What linguistic resources, such as translation memories, termbases, and style guides, do they use and can provide?
How to translate internal content?
Internal content is somewhat uncharted territory and the final frontier for localization. Granted, if your learning resources are vast and many, translating them manually into more than a couple of languages may not be an easy task, nor is it cheap.
Here are a few ways your business can bridge the language barrier for its employees so they can make better decisions regarding their personal goals as well as corporate objectives.
Localization & TMS platforms
Internal localization team
Here are a few ways your business can bridge the language barrier for its employees so they can make better decisions regarding their personal goals as well as corporate objectives.
Let's sum up — localizing your internal employee-facing resources can optimize HR support and encourage employee self-service. For the company, this means greater organizational efficiency, increased employee productivity, and a strong employer brand. For employees, an overall more enjoyable work experience.
These benefits make the investment worthwhile, especially if deployment is both cost- and resource-efficient.
At Intento, we're helping large global companies face these challenges. If you'd like to discuss how you can bridge the language gap in your organization, go ahead and book a call with us.
Industry news you don't want to miss